A global economy is an economic interdependence established between the most influential countries that drives the worldwide economic environment. Today, the common question in people's minds is why is war affecting the economy and business around the world. The Russian and Ukraine war has affected people in many ways, physically, mentally, emotionally, and economically. You would have read that the market is going to suffer a hard hit because of the war situation. As the global impact of sanctions will be limited, EIU expects that the most serious effect of the Russia-Ukraine conflict for the world economy will come in the form of higher commodities prices. Apart from the loss of human life, there's damage to infrastructure, working population, rise in inflation, shortages, debt, uncertainty, and disruption in normal economic activities. All these together fluctuate the market and there's an adverse effect on the global economy.
The Russian invasion of Ukraine is already dealing a blow to the financial market as well. Global supply chains and growth had been broadly recovering from the pandemic, but now all that's in doubt, The global economy woke up to a new blow which increased the prices of food and other commodities, adding that this NEGATIVE impact would increase if the tension between Russia and Ukraine increased. 
Estimated impact of Ukraine crisis on global economic growth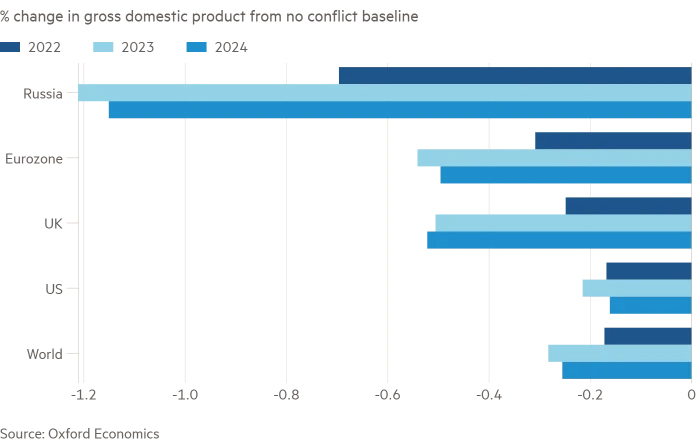 [Source]
Here's what you need to know about how it could have an impact: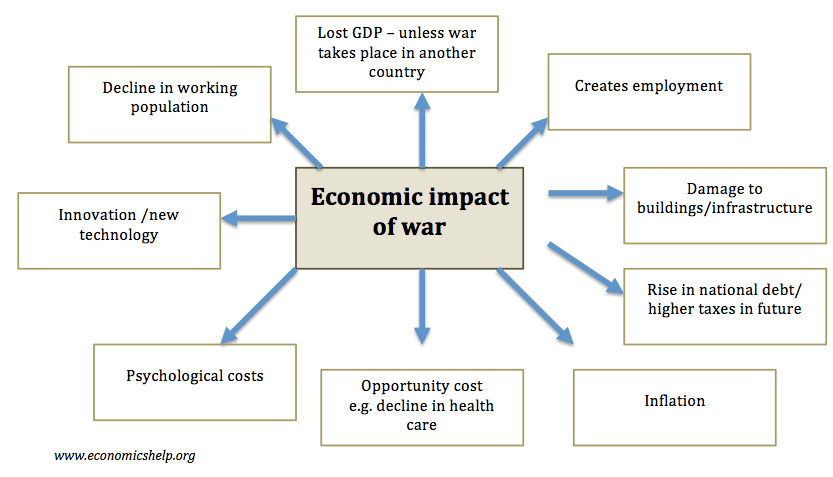 [Source]
Gas and electric bills could rise even higher 
This is the one that's likely to hit home hard because energy bills have already been rising. Russia is a major exporter of gas and oil. Oil prices would rise much higher than $100 a barrel. 
Food prices could rise
Russia and Ukraine are major suppliers of wheat, corn, gas, minerals, and other commodities to the world, and thus will harm many countries in Europe, Asia, the Middle East, and Africa that depend on wheat and corn imported from Ukraine.
Interest rates could go up
All these rising prices are very difficult for the Banks As prices rise faster and further in response to the Ukraine situation, it may feel it has no choice but to increase interest rates to try and slow inflation. And that would add to the cost of mortgages, as well as unsecured debt like credit cards and loans. 
No certainty 
It can be very hard to predict where prices may rise as the world is so interconnected and this conflict is a major global shock. The coming weeks and months could impact on our investments, potentially hitting people's pension savings – although hopefully only in the short term. 
Russia-Ukraine conflict: Economic implications for Sri Lanka 
Overall, Russia and Ukraine account for 2% of Sri Lanka's imports and 2.2% of exports in 2020. However, both countries are vital import sources for wheat and export destinations for Sri Lanka's black tea (Figure 2 and 3). Russia and Ukraine purchase about 18% of fermented black tea (>3kg) exported by Sri Lanka. Similarly, 45% of Sri Lanka's wheat imports are sourced from Russia and Ukraine. In addition, more than half of Sri Lanka's imported soybeans, sunflower oil and seeds, and peas are from Ukraine. Moreover, Russia and Ukraine are significant import sources for asbestos, semi-finished products of iron and steel, copper (cathodes), and potassium chloride for fertilizer. [Source]
Global Economic Impact 
Sri Lanka's Imports from Russia and Ukraine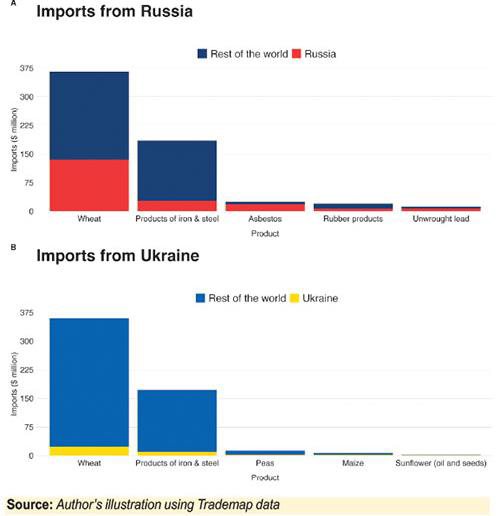 Sri Lanka's Exports to Russia and Ukraine